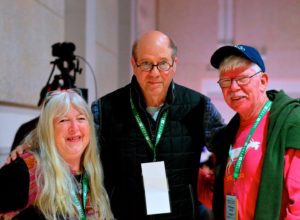 Happy Anniversary to My Rebecca and myself today. A whole bunch of water can flow under the bridge in forty one years. That's more than a lifetime for some folks. It's a lot of Christmas presents and Easter bonnets. Of course it's not all party time, challenges abound but so do blessings.
We are back from our trip to Port Townsend, our treat to each other. So glad that we took a hold of that. We are talking about trying to go again next year. Lots of good new filmmakers and good new films every year. It is always inspiring to sample their work. Of course there are plenty of film festivals in different towns but Port Townsend is such a lovely welcoming place. They work really hard on this and they celebrated their 20th anniversary this year.
So, we are back to the ranch today. Work that needs continuing and walks that need walking and I suppose tapas to accomplish. The weather is rain, sun, rain, sun and repeat. Perfect conditions for little seeds in the soil. The crimson clover, the cover crop, is up in the corn. And all the areas of dead grass around are greening up with new little hopeful shoots.
The apples are ripe and the wild pears are starting to litter the ground. The deer like them alcoholic and mushy so they will move in for treat in October. The voles are everywhere, a high point in their population curve, and the barred owls are starting to be everywhere responding to that boom. It's all happening in the wild kingdom neighborhood.
Off to walk momentarily, a beautiful morning is presenting itself. Come by when you get a chance. Check the schedule I put up yesterday. Remember soon the time will change and the afternoon walks will then start at 1530 instead of 1600 (3:30 instead of 4:00). Yup, winter schedule.
yup loves, Felipé.