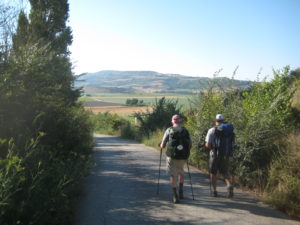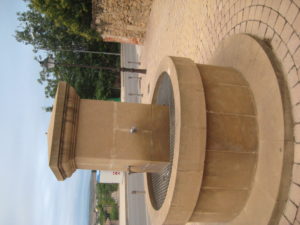 Here is what we wrote three years ago from along the trail in Spain on July 31, 2017.  This was entitled "It's Only A Flesh Wound".
"There is a point were the pain all becomes silly.  I'm too tired and goofy right now to tell you about this amazing day.  I am going to hand this off to someone else who is more qualified than me.
"Today was the most trying day so far. I found myself on a roller coaster of emotions. Mostly between the joy of realizing that my body is starting to hurt much less, and the complete dismay of turning around a bend and realizing just how much more there is to go. I know that the Camino isn't supposed to be about the end but rather getting there and how you spend that time, the things you learn, and the people that you meet.. But since I'm a very goal oriented person, I find myself getting mad at my body for not going faster and mad at the road for not being shorter. I've really been struggling with that lately, not just on the Camino but in life. I find myself constantly nostalgic or planning out the future but never stopping to enjoy the moment. To stop and stare at the beautiful wide open fields of Northern Spain, to take a deep breath and relax instead of constantly worrying about getting there alright. After all, the worrying is so pointless. Tomorrow I plan on taking it easy since I've been pushing my body far past it's normal limits these past few days and I really need to start appreciating my body, this beautiful vehicle that allows me to walk dozens of miles, rather than wishing it could be faster and better.
-Emily
"The way, in the beginning was a torture because you just wanted to get to the end, now it becomes to turn into a pleasure, the pleasure of search and adventure. With this, you are nourishing something very important : your dreams."
– The Peregrine of Compestela
The pain becoming silly, it is good we remember that.  And that was Emily who teaches now in South America.  And a nice quote there.  This post was written at tapas after a long day on the trail.  Lots of times my companions would write things if I asked them.
I have half an hour before my walk here at Phil's Camino.  It will be the cool of the morning and I won't have the pain here.  Man, we worked hard there, that is what is hitting me right now.
Love, Felipe.x