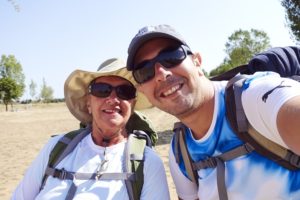 Yesterday on the blog I wrote about Annie O and the anniversary of our meeting on March second, 2014.  A memoriable day in the best possible way.  She wrote a lovely response in the Comments, which you are welcome to read.  And one of the things that she said there to me was, "Thank you for living so loudly."   Wow.  I had to reread it a few times.  Like is that a good thing?
Reminds me of the Camino in Spain with Mary Margaret, Angela, Kelly and Sherif when we were trying our best to be louder than the Italians.  That was really hard work, tapa till you drop hard.   We actually did break the barrier on a few occasions.
Then there was the time when I was accosted by a woman in the hallway at Swedish Cancer Institute who said, "How can you be so happy?"   No one ever told me that I couldn't be or shouldn't be.  I guess the default state to be in is your basic standard hospital glum accord to some people.  Hmm.  I'm still pondering over this one.
What are we doing?  Are we daring to laugh into the face of the enemy?  Do we see an opportunity where others see mayhem?  Do we sense a place to make progress where others have paralysis?  Oddly,  do we see joy where other's see darkness?   The ability to turn things on their head may be the ultimate cosmic gift.
So here we go off to our day, as loudly as possible!  Thanks for being here.  So far so good!  Love, Don Felipe.