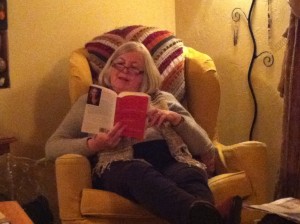 Here is a lovely description of the last day of filming about a year ago here at Raven Ranch, the day our beloved dog Sture died. My Rebecca had a writers get together yesterday and produced this piece for it, brand new.
Impressions from a memorable day
"A year ago, not to the day, but near enough. Phil's Camino film crew here for the weekend to get footage of his home turf to complement the Spanish pilgrimage. That last night, Sunday, after long days and hours of interviews with family, doctors, friends, was a party. It was cool, being November, maybe even a little cold. The night was clear and starry. There was a crackling fire outside (because that's where we party, regardless of the season). Wiley and several of his friends—Josh and Dom for sure, and two girlfriends (former and current at the time), Dom the sound man still toting the sound boom around collecting ambient noise to add to the soundtrack. Jessica from San Diego huddling inside by the woodstove, despite the indoor temperature having reached a suffocating 78°. Sausages grilling on the barbecue, a vat of wassail simmering on the Coleman stove atop the picnic table. Rick, one of Phil's fellow pilgrims, made paella, and somehow our big spoon got so hot that the potholder melted and fused onto the handle. It's there still, the rough dirty green fibers marring the smooth black plastic, whispering "remember this night."
Sture, our beloved big black dog, recently diagnosed with cancer, valiantly hanging in all day so patiently with all the interviewing, listening in on deep conversations about life and death. Lying there in the overheated house (he always liked being out in the cold—it reminded him of his homeland, Sweden. Particularly when it snowed—to see his pure black fur sprawled out in the whiteness was a treat). Finally the cameras quit rolling and everyone went out to party and eat. Ah—at last. He perked up and began to cruise around amongst the partiers In search of edible possibilities. I was looking at him– how beautiful he was! Soft shiny fur and bright eyes, tail wagging –when suddenly he just dropped to the ground. Stone dead.
Phil, as usual in a crisis practical and collected, touched his eyeball and pronounced him dead. I was in shock for a few seconds and then my grief burst forth in nearly hysterical weeping. It was all my grief, for all the cancer, for Phil and for Sture, breaking the dam of my calm acceptance. As different friends hugged me and lent me their shoulders to cry on, Phil and Wiley wrapped him in a special quilt made by Phil's grandmother for infant Phil and put him in the truck that he loved to go in wherever Phil was going. Stunned silence stitched spaces in the murmuring condolences. Josh said to me, "Wow—sometimes life is so . . .sudden." and I thought yes. Life is sudden. Death is sudden, but it's life, life life.
That night I was supposed to sing in a concert but life suddenly happened. In the end, I sang for Sture. Sang "Blessings on your Journey" around the campfire with other voices joining in as they got it. Eyes shining bright with tears, I sang for Sture. Fully present to the very end, he lived a life as noble as any I can imagine."
Yes, it was quite a memory for everyone there. We laughed and cried at the same time. Ahh, Felipe.