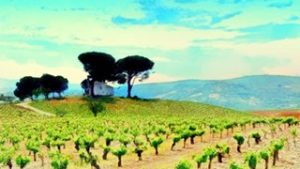 Painting of my favorite scene along the Camino Frances. This is the vineyard house as you are approaching Villafranca del Bierzo. This house would be on your left side off in the distance…
"Big Love" is a song written and sung by Lindsey Buckingham of Fleetwood Mac. As I walked alone along the dirt path parallel in the distance from this house, on a hill in the vineyard, I was jamming to "Big Love" with my Beats earbuds on.
"Looking out for love
In the night so still
Oh, I'll build you a kingdom
In that house on the hill
Looking out for love…."
That was the house on the hill that I imagined. As I walked alongside it I stopped and paused and looked at the serene house and totally had a daydream of a girl that may have lived in that house on the hill maybe a 100 years before and the young guy in love with her, trying to get to her on the hill…..in the background of my daydream was the amazing guitar riff and lyrics Lindsey Buckingham poured out, Looking out for love………Big, Big love………and the guitar solo……
My god, "The Dance" live album, amazing….
The vivid daydream I had that day on the Camino was so surreal that the daydream was even better than reality. I remember it was one of those days that my body was so ravaged from pushing myself too hard, feet on fire, that endorphins must have kicked in and now the daydreams were epic, like I was on mushrooms or something…(never did shrooms).
And so, this picture, this house, on the hill, in Spain, on the Camino is my favorite.
Oh how I LONG for a day like that again. How simple was life. "Must get to albergue…feet on fire….hungry….thirsty…..oh my god, look at that house on that hill……" Like an 80's awesome soundtrack movie, enter Lindsey Buckingham…..
"Looking out for love
In the night so still
Oh, I'll build you a kingdom
In that house on the hill
Looking out for love…."
I love you guys. We will all be having Camino days like that again soon. I absolutely promise:)
Cheers:))
Ryck