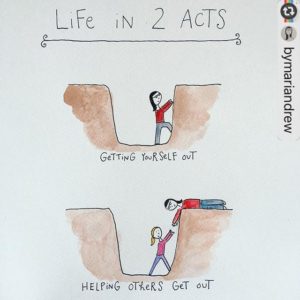 Not sure if the boss is coming today to write, but I thought to sneak in a post one more time, just because I read something on instagram today, and cannot stop thinking on it.
This woman posts thoughts written in watercolors, yes, very simple, but at the same time, I feel that the simplicity the page has makes me think on what she writes (check her out, she is @bymariandrew). This is what she posted today:
"When people are walking very slowly, I imagine the possibilities that could be contributing to their leisurely pace of plod:
Perhaps their feet hurt
Perhaps they are recovering from an incident that could have taken their life, but it was gracious enough to take their fast gait instead
Perhaps they are trying to notice everything and don't want to rish
Perhaps they are too early for a first date
Perhaps they are trying to align their steps with the rhythm of their heartbeat.
I don't know. Seems possible. "
These lines made me think on all the different circumstances others may be going through and we don't know. In this case, it is just walking slowly… Walking slowly can hide some lovely reasons as being early for a first date, but also be as devastating as dealing with the symptoms of a disease. So… no matter what and why, isn't this a great reason for practicing being more patient and kinder towards the rest of the humanity?
"Love is patient and kind" Loves,
Cris