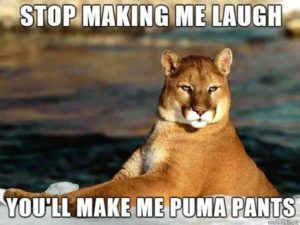 Well, in case you haven't heard Vashon Island has a new cougar, a puma, a mountain lion. And this one is way new and improved. The last one we had and the first one in a long time was cool and did a fantastic ground breaking job but the new one has panache. Well, he or she is on FaceBook with his or her own page for one. Pretty funny and probably only on Vashon.
Having a cougar around takes a little getting used to. They are a class A predator and very capable. We say as locals, "Yes, he will take care of some of these darn deer." Yup, we will put up with so much as long as he is helping out. But the other side of the coin is that we all have big cats in our DNA memory and this adds interesting spice to being outside with this guy who knows where but ever present.
And personally these guys have meaning for me. A while back we had a small group of us known as the Cancer Commandos, that was Jennifer, Bill and myself. We would have some fun with our situation and try to do some good. They both have passed away now leaving me the sole survivor. But I remember one of the things that Jennifer said to me in her last days hooked up to all the tubes and medicines was, "You won't have to do this, the cougar will get you." I think about that a lot.
So, you can join this fun by being FB friends with Vashon Cougar. There is some pretty fun and creative stuff on there. Tell him Phil sent you.
Yea, love, Felipe.