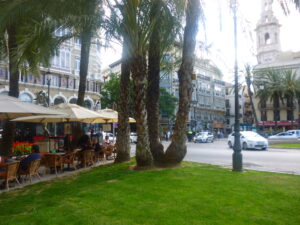 Dear all,
If I apologize one more time for not keeping the consistency on writing and then failing again, I will lost the 0,001% credibility I had remaining! So instead of that, I will write about me and these times I am living.
Yesterday, Thursday 9th of June it was 3 months since I put a foot in Spain to consider it "home" moving forward…  "3 months" of this new project growing in my soul and mind and heart, and probably this is why I am feeling more comfortable sharing about it. Some of you know that this has been a long LONG road that started actually in 2019 before the pandemic, was on hold during the pandemic, and then had a million of obstacles even until the day before I had my ticket, until it finally happened.
I never thought of living in Spain. I always thought I would love to live in another country at least for some time, and I actually lived in Brazil for 1 year and a bit in 2004-2005 when married; and when I divorced, I thought it was the time to do it, but I come from the culture of  "you have a career", "you have to stay close to the family", "you have to have a house" and my rules compliant personality made me worked like crazy in my job and a private practice, live as simple as possible to save money to buy my tiny apartment, and dedicated most of the time to spend with my nephews who were very young and my uncle and aunt. When the wish to move rekindled again,  my uncle passed and my aunt after 60 years with my uncle as a partner in life, needed support, so she moved in with me. Then I blinked and her cognitive health declined and she was the one in need of a caregiver now, and well, again some years went by…
Few of you knew that days before going to the Veranda in 2019, my life was turned upside down. Both for decisions I had to make and for the reactions and long lasting (still now) ripples these decisions had. I came back from the Veranda to a new life at home also, but also with lots of work that I had set aside for that month, a working trip to Poland and friends from England coming to stay with me. I blinked and the pandemic started.
The rest, is how this post started… and long LONG long road, but maybe it is like the Camino… that the way starts once we arrive to Santiago… so maybe this is why it is so significative for me to be here today, one day after the "3 months" timemark, just in case there was any risk of miscarriage.
The first time I travelled my myself was in September 2011 when I walked the Camino from Leon to Santiago. In the train from Madrid to Leon, I flipped the book I was reading -The Elephant Journey, from Jose Saramago-, and for the first time I realized what was written on the cover (obviously since the day I bought the book!!!)… it read: "You always arrive where you are expected (The book of the itineraries)".
We all know what means to arrive to Santiago Loves,
Cris