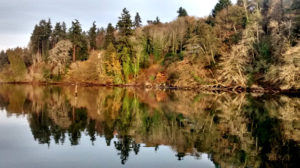 Good, I am back to the ranch. Thursday is the in between day with my Wednesday and Friday in Seattle. I have an outdoor carpentry job scheduled and the weather looks perfect.
But yesterday was beyond memorable. Any day spent with Erica de America is bound to be memorable and beyond. That was on top of all the great folks that checked in with us during the six hours there. I have developed so many great connections with staff and patients there and many manage to stop by at some point to at least say hi if not to spend a minute in their busy journey. Very heartwarming, it buoys me up and visa versa.
But back to Erica. I am terming her the modern reincarnation of St Hildegard of Bingen (1098-1179), amongst other things a healer extraordinaire. She has convinced me to make some changes in my diet and life style.
This is on the back of seeing "The C Word" at the Port Townsend Film Festival. That is a documentary about the journey of Dr David Servan-Schreiber with his own cancer. The message he gave me was synchronistically similar to E de A's. Do you think. that it is time?
OK, time to walk the trail. Catherine y Dana will be here. They just got back from a wedding in Wyoming and me back from the festival so we will be playing catch up.
Make the most of your day there where you are. God loves you and there is nothing you can do about that. Big loves, Felipe.