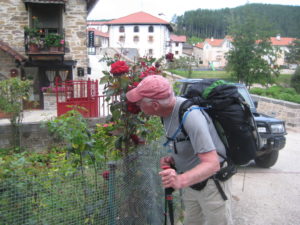 Dear Caminoheads,
I have kept thinking about this topic of joy a lot after we started. I don't think I had given such a deep reflection before… Sure we all want to be joyful and happy, but I guess we get content and feel like we achieved if we feel cheerful. I was putting away some books from my shelves this weekend and found a book written by Matthiew Ricard, the French Tibetan Monk, on the topic of happiness, and I read a few pages thinking on us, here at the blog. One of the lines I marked on it is:
"Human flourishing is the real aspiration — that happiness is not a sensation or a feeling; it's a state of being that can encompass all of the things that happen in life."
And below is another extract from a talk he gave"
"I think we should clearly see, what are the inner conditions that foster a genuine sense of flourishing, of fulfillment, that the quality of every instant of your life has a certain quality that you appreciate fully. So you see, it's very different from — people sometimes imagine that constant happiness will be a kind of euphoria or endless succession of pleasant experiences. But that's more like a recipe for exhaustion than happiness. Even the most pleasurable thing — you eat something very delicious. Once, it's delicious. Two, three times, OK. And then ten times, you get nauseous. The most beautiful music, you hear it five times, 24 hours, it's a nightmare.
If we think of happiness as a way of being, a way of being that gives you the resources to deal with the ups and downs of life, that pervades all the emotional states, including sadness. We think of sadness as incompatible with pleasure, but it's compatible with what? With altruism, with inner strength, with inner freedom, with sense of direction and meaning in life — those aren't sad things. But if you don't fall in despair, still you maintain that wholeness and that sense of purpose and meaning."
On this last part, I was thinking about something that I once listened Yoyo Ma say, that when he is performing, he chooses "joy", because he feels he is "the host of the party" and would be terrible that his guests, upon arrival, instead of having him saying "I am glad you are here!!!!!!", he would say "Oh you came". And he added something else to the point, something that we all have said or have been told in similar situations, for example, in a funeral, it is not uncommon to be told or to say "I am glad you came", or "Your presence here makes me content". Certainly it is not that we are "not sad", but as Matthiew Ricard says above, we "have the resources to deal with the ups and downs of life"
I am now thinking of Phil… I think he embodied these words… both the ones from Matthiew Ricard and Yoyo Ma… don't you think?
Happy tired loves,
Cris