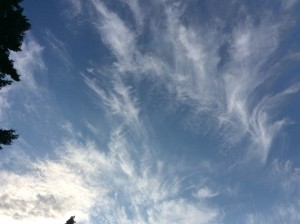 I am so glad that I had my sidekick Camino Catherine with me today at Mass.  When one commits a major false step it is good to have Caminoheads close in.  Let me discribe the situation.
Father Marc gave a bang  up homily on synchronicity, one of the favorite Caminohead topics of all time.  He was doing great and weaving it in with what was happening today at the parish.  This particular Sunday is the annual Salmon Bake which has been going on for 55 years.  Lots of good chow celebrating the late summer return of fish to Puget Sound.  Also, we were dedicating an icon today in the worship area.  This has been in process for at least a year and I got to be on the committee that worked on the project.  It portrays  the risen Christ preparing fish on the beach for the apostles who are coming to shore on their boat.    I look forward to seeing it for the first time in a few moments.  But all kinds of synchronicity goin'  on.
So back to my miss step, my faux pas.  Shortly after the homily is the Sacrament of the Eucharist.    This is the very center of the Catholic world.  And I go forward following Catherine to receive the body and blood of Christ that is present in the bread and wine.  And what do I do but "fat finger" the situation and drop my small piece of bread, piece of Christ right there on the carpet.  Yike.  So I quickly pick it up and move on.
I am so glad that I had training on the Camino in the form of an outdoor Mass that had something similar.  A strong gust of wind sent the Body accross the pavement and there always a scramble to collect Him.  But what to do with forces like wind and gravity, we do our best, yes?   Pilgrims know that nothing here on earth is perfect but we do our best and keep moving down the trail.   So, here we go, love you, Felipe.