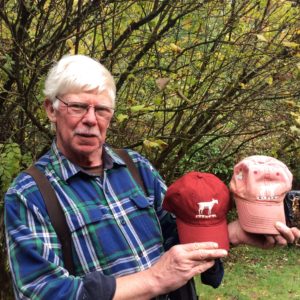 Yesterday in the mail comes a new hat from the Mazama Store, Mazama, Washington. A new one just like the old original one used to be, used to look like but really hard to remember. So, the old one, the real one, the one that made it accross Spain in the sun of July and August will be retired except for special occasions. But the important thing is to thank the mystery person that ordered that for me. Thank you, whoever you are!
So, Cubbie's game tonight after I get back from the hospital in Seattle. The commute on Wednesday was a bear and hoping today's will be easier. Might even be some sun breaks. Do weathermen use that term in other places? In Seattle it means that it has been gray for far to long and then the sun "breaks" through the clouds for four seconds and everyone goes, "What's that?". Yea, really.
Also, getting ready to celebrate the thousandth post on Caminoheads blog. This post right here is 997. So, maybe Sunday. My Rebecca has already composed a poem to commemorate it. So stay tuned for that. It would be fun to hear from some of you in the comments.
We had a tremendous party last night. It revolved around Jan, William and Starr's visit to walk Phil's Camino. They were in from California and Oregon. Then Bill my cancer commando buddy showed up. Then Kate Munger with Barb and Ken came in. Kate is the founder of The Threshold Choirs which is a world wide movement to have little choirs bring comforting song to folks on their deathbeds. My Rebecca is in that in Barb's group. So we had a walk, tapas and watched Phil's Camino. A great afternoon and evening!
OK, have to go for now. And thanks for everything to so many people that make my life richer. On the look out for sun breaks, whatever they are. New red hat love, Felipe.