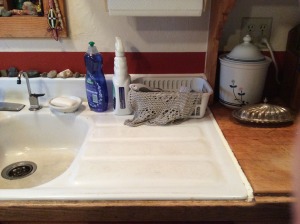 I was just in the kitchen trying to make breakfast for myself and I clumsily broke a wine glass that was on the drainer next to the sink. It fell into the sink with a crash! And that's pretty loud in a pretty quiet house, just me and the dog up and he is quiet and content after being fed.
Yea, so? Well, the other part of the story is that this is the time and place where most of the blog writing gets done and this morning like very recent mornings I was having trouble. Topics have been hard to find. They weren't just lying around on the surface to be casually picked up the way that they were earlier. So, I was thinking about that actually when crash the wine glass went falling into the sink and woke me up.
Let me try again to describe it with what I felt. By the way,the bread is still sitting on the cutting board and what am I am doing at the instant is blogging away happily instead of having breakfast. See how it works? Ok, so crash, the beautiful and delicate glass that was happily sitting on the drainboard, meets the not so beautiful and not at all delicate sink.
Yea, so? But what's important really is my first thought. What about people coming to Dilly Dally? What about those great people that have been coming to share afternoon tapas with us? What, now we are down to three wine glasses. This will never do!
So, isn't that lovely? Aren't I outside myself and with you. Isn't that Caminoheady? Thank you for teaching me this, you guys. Amazing. See how it works?
Love, (do I need to say that? Yes.) Love, Phil.
p.s. – the walking schedule for the near future:
Friday the 3rd 0900-1000.
Sunday the 5th 1000-1100.
Monday the 6th 0900-1000.
(This is here at the ranch. Just show up with your boots on. Would be great to see you!)