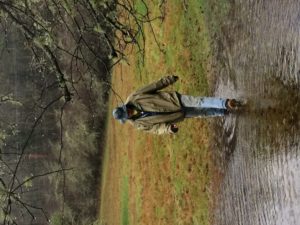 Maybe one more day on the Choctaw woman. It really has juice, this vignette that we have uncovered. Are we in a hurry? Are we in a rush to get somewhere? Can't we just dilly dally a little longer?
One facet of the story that is so worth talking about is how she was in relationship with God. How she was equal partners in the process that she was invited into. It wasn't God over there somewhere but God close at hand. And it wasn't God aloof but God as a working partner.
I have boiled down this story in my mind to refine the ore of it. Her part was gathering up death, which was everywhere, in it's many forms and offering it up to God. God accepted her gift and transformed it to it's total opposite, life. Life in the sense of building up of the soil and it's capability and therefore to provide the food to feed her and her family. I am struck by the conscious yin yang of it.
Of course this faith, this knowledge, this ability stretches
back to her people. She didn't think of it wholy but she upheld it and kept it's flame alive. And consider that she did not start with some good piece of ground but one depleted, dead land. Perhaps it was some forgotten back yard of a rental house complete with car parts, broken glass and chucks of busted up concrete. It was something like that I'm guessing.
Annie sent us a comment this morning about how she saw a parallel in the Choctaw story and my story. How somehow what we do here at Caminoheads and what we are doing with the documentary is a similar gathering of the negative and offering it up to be transformed by God to a positive. We all are somehow living the bigger picture when we do this.
A good morning love, Felipe.