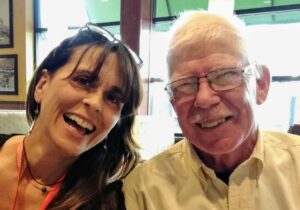 Like many of you Caminoheads, The General is on my mind a lot as I walk the journey.  I often see mentions that "Phil would have loved that comment/picture/person/action."  I especially think of the smile and glow of his eyes as he engaged in conversation, verbal or not, with others.  One thing that I am sure he would comment upon is stuck in my head and I invite you to comment on your reaction to this idea.
I am not a Catholic and I'm not too experienced with reciting prayers or sacraments but I got the idea in the years preparing for my Camino walk to meditate on a PHRASE of sacred language each day.  In keeping with the promise that the Camino provides, I found a tiny bible book in Virginia someplace and decided it was for me.  It contains many scripture passages that are worth having in one's pocket if not in one's memory.
I started my meditation with The Lord's Prayer: 
Our Father, who art in heaven, hallowed be thy name; thy kingdom come; thy will be done on earth as it is in heaven. Give us this day our daily bread; and forgive us our trespasses as we forgive those who trespass against us; and lead us not into temptation, but deliver us from evil. Amen.
So that first day walking out of St Jean Pied de Port I said to myself over and over "Our Father, who art in heaven" on my way to Orisson.  I don't recall any special feeling about that experience, but the next day on my long walk over the Pyrenees mountains witnessing creation in a special way I repeated and thought about "hallowed be thy name," something fresh for me to think about and put in perspective that got me as far as Roncesvilles. "… thy kingdom come;" a concept often taught in the church accompanied me to Larrasoaña.  Celebrating a restful night in Spain I took on the longer phrase "thy will be done on earth as it is in heaven."  And that phrase took me into new territory emotionally.
Here I repeated the words 'in heaven' for the second time in this exercise. The first day I understood it as God's address – Heaven – and this fourth day "in Heaven" came to me in another way.
Here comes Phil's smile and that glow in his eyes.  Ready?  
What I felt was that this second "in Heaven" wasn't an address we hope to call home one day but more like "in Love," which is God, inviting me to dwell therein.  And for me the Camino was this kind of heaven as I accepted the love of so many others and came to be comfortable with being in love/in heaven with them as well.
On hearing this can you see Phil turning his head to look into your eyes as you walk alongside him on his Camino?  Can you see how In Heaven he is on a daily basis?  Can you see yourself there as well?  May we be one …
In Heaven Love,
Ronaldo