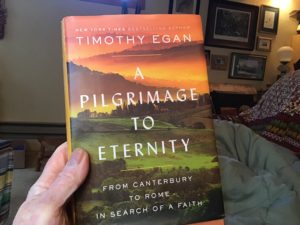 Yea, Pilgrim Farmer John was off and running at the blog yesterday separating the sheep from the goats. He is really taken with this idea of walking the Via Francigena that is the setting of this book that I am head over heels about, A Pilgrimage To Eternity. Maybe I'm more on sitting on the couch and reading about it than he is.
One of my Camino friends Lucia from Sicily was big on this. She had done stretches of it in Italy which sounds pretty much like heaven to me. Maybe I will try and contact her and see if there is anything new that she can tell us. One thing that I know because I have been following this story for a while is that the trail is a real thing in Italy. What I mean is that it has real accommodations and signage. And the trail gets more primitive or really nonexistent as you look northward.
I know that doesn't sound right to have a trail that isn't real in places but that is the story. It is being reclaimed from the overlay centuries of civilization. It's been largely built on and crisscrossed by all manner of mankindness since Sergeric the Serious traveled it and documented it in early nine something. His writings are being used as a blueprint in this reconstruction. How fun!
So it doesn't really exist as any more that an idea in it's more northern reaches. But that has a sort of appeal to it too for some guys and girls. It's the modern version of pioneer trail breaking maybe.
Early on when millions of pilgrims per year trekked the trail and the accommodations did exist and that is part of the history that is so rich in these places that it travels through. There was a whole system of monasteries and abbeys that sheltered, tended and fed the wayfarers.
This is the original way it was done. Or maybe not the original but the high point of the situation. So today this only exists as an idea, far away from our reality. But they are working on it.
So maybe more to come on this topic in the future. I will check with friend Lucia for anything I can glean. So stay tuned!
Time to prepare dinner. We have venison barbecue on the menu for tonight. Walk tomorrow at 1530. Maybe see ya.
dreaming of pilgrimage loves, Felipé.