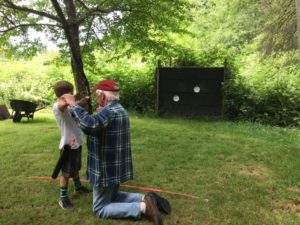 Tuesday here and recovering from the four day weekend.  Yesterday noontime we wrapped up the first ever Women's Archery Retreat.  I'm calling it a total success.  We could have had more folks but it was a great run through.  And going through the process got us up to the next level in all areas.  Saying a prayer of thanks that all went so smoothly.
So we are going to debrief and regroup and build for our next one which looks like it will be in September.  We will announce the dates shortly.  September is a great month around the Seattle area so alperfect.
Summer is off to a great start.  The Fourth of July is coming up quickly.  After that comes the Vashon Strawberry Festival which is a island wide blowout.  We are shooting to have our roadside produce stand open for by that time.  That will be too early to sell corn but we will have other stuff and it will get folks used to stopping by.
I am out in the corn daily.  It is now the big race with the weeds.  Fertilizer, water and keeping the competition down are the key ingredients to getting to the finish line and delivering the product.  We will have plenty of corn on the cob to feed our archery gals in September besides stocking the stand.  That's the plan anyway.
OK, I am off to work in a minute, staying busy.  Miss you, love you, Felipe.