6FBEAE90-61A1-4406-ADAF-5B22835E29E0 1236B398-4219-416A-B798-F7E79F6D0AE4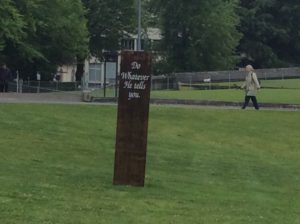 Doesn't happen too often that one gets a medal but today was our day.  They handed out out medals to all the malades and caregivers.  So I am wearing mine now, proudly.
I am way behind on describing all the goings on.  The Order is putting us through a lot of experiences, as much as they can providing the time and the weather.  Last night's Candlelight Procession was exceptional.  There were malades and caregivers and Knights and Dames from all over.  Every country in Europe and many others were represented.  There is even the country of Malta which I am trying to connect with.
Anyway, I feel like I am finally over my jet lag which is helpful.  And despite all the hoopla and goings on I am trying to figure out what is really important here and what is the take away.  What is the basic idea that is being presented to me.  I am slowly realizing that it is roughly the words that Mary said at Cana, "do whatever He tells you."  Mary always points to Jesus.
I was out by the river in one of the more secluded areas of the Domain (the acreage that is offically the grounds) and was very happy to watch the water go by.  Right now I crave some communing with nature and some quiet.
Also some of the hotshot young knights have been doing drone shots of the place, daytime and nighttime.  I am going to get the links to those for you.  And the Padre has been taking short videos of us and surroundings at eye level so I will get some of them to you.
Have to tell you that last night I had dinner with the Bishop (of Sacramento) and the head Medical Officer for this trip.  More doctors, lawyers and Indian chiefs.  And we spent most of that time taking about what?  Why the Camino of course!  Who are you talking to but Felipe.
Today I had a great time talking with a Marine Corps vet who was in at the same time as I was.  We had lunch and gabbed for another hour in the bar.  He has a sailboat and I may had a trip in my future.
OK, have to wake Padre up from his nap.  He is sawing logs here and we need to be assembling for the next activity.
Thanks for checking in, love, Felipe.