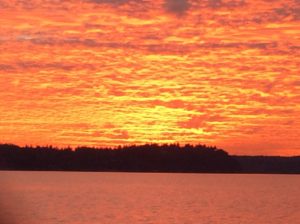 "Hola Felipe,
This is quite a profound post… one it is good to read today…
"It is the place where we may find ourselves after we have spent a lot of time and effort trying to avoid. The place that is the opposite of our best dreams for ourselves and our loved ones."
That is the worst of the struggles, isn't it? And that is the one I have the hardest difficulties to deal with… We work so hard, we trust so deeply, we keep the hopes, and yet, the point we come to is one where we have to reconcile with the fact that things are not going to be as we want…
But, at times (not always, I must admit), I can see what David Whyte may have meant when writing "what you can plan is too small for you to live"… Who of us dreamed to meet each of us? Who of us thought the Camino would change us so deeply? Or in your case, have a movie? Or even better, that walking in your backyard to recover from cancer surgery would open this world to you? Or me… find a friend like you (or Rebecca, or Jim and Gloria, or Catherine and Dana, or PFJ), so far away from home? And honestly, trying to get ready for our "get-together in the Veranda", I was thinking how that started and what is looking like it will be… and certainly, this phrase "What you can plan is too small for you to live"
I think we must trust (I know I MUST, and specially these days) in this other phrase of another David Whyte's poem that calls that "Everything is awaiting for you"… and in this "Everything", different from what we dreamed, there is a lot more than we could have ever imagined. It is a practice to see this… but a good one for when the "Everything" we see hurts deeply.
Keeping the grateful eyes Love,
Cris"
This is Cris's comment today on, Some Blue Sky, yesterday's post. I was talking about how my buddies were stepping forward with stories of how they encountered "bad luck" and what they were doing about it. They weren't all "succeeding". That is the central theme of that meeting as I put together in my own head. We all find ourselves in these "bad places" if we live long enough.
Cris does a nice job of following the thread that David Whyte has laid down about our lives being way more than our puny imaginations, dreams and preparations. And that brings both "good" and "bad", right? That is what we have to see and deal with at a certain point, the realization that life with a capital L is totally out of control. Well, our control that is. And that is scary as hell for us.
Well, of course, there is the flip side of the bad stuff, the blessings that arrive on our doorstep. The "bigger than life moments" that occur for us. But that is what Cris is saying that when you are living Life with the big L you are open to all of that. Wowie Zowie!
Wowie Zowie Loves, Felipé!