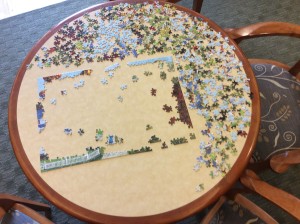 It's my chemo treatment day and I am early to the hospital.  The traffic was really light for some reason and I just zoomed in.  Jennifer is showing up soon.  We didn't come in together as usual.  But we will cause trouble here shortly.
I did my turn at the jigsaw puzzle here in the waiting room.  I try to do at least one piece. Did three today, hurrah.  It's where it is happening here.  It is the best way to strike up a conversation and get intelligence.  Other than that, people are moping around and it is hard to approach them.
Last time I was here I did my first mission as a cancer commando and it had to do with the puzzle.  I'll have to tell you about it.  I came over to do my usual piece and noticed that the puzzle was the same one that was there two weeks before which is odd since there is usually a faster turnover.  Not only that but it seemed still to be two thirds done like somehow nothing had progressed in two weeks.   And it didn't take too long of staring at it to discover that it had numerous pieces missing.  People realized that and lost interest quickly but the big thing is nobody did anything about it.  It just remained.
So, I got it in my head to deep six it with permission of course.  It felt so great to slide the pieces off the table and into the wastebasket.  I was striking a blow for the other patients coming after.  It sounds a little silly but it was a case of realizing the value of a positive action no matter how small.  And the value of getting out of my personal "rut" and participating in the bigger picture.
Well, it seems like a dinky little thing but it is part of something bigger, something that could grow.  Just getting organized and getting the hang of this cancer commando calling.  It feels a little like "One Flew Over the Coocoo's Nest"' if you can remember that.  That was from the sixties; I don't know if we can remember that.  Later, love, Felipe.