Good buddy Erica de America from Austin just coined the new phrase to describe what we do around here, "beyond normaling". This is the theme for 2017 I'm thinking. Gracias EdA! You're beyond priceless, just sayin.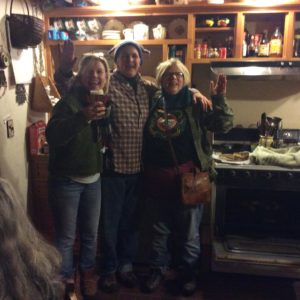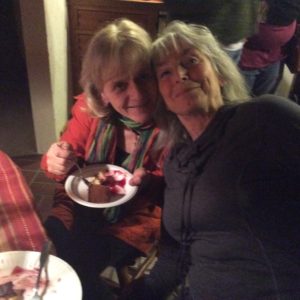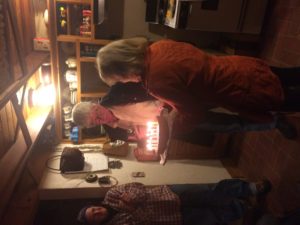 My dinner last evening consisted of all desserts and rose wine. I mean I am working hard at multitasking, trying to fulfill my host responsibilities, keep all the Caminoheads in line and to make sure all the rose gets tasted and there is the birthday cake being presented, so beautiful. But the point is I started with a piece of cake and moved on to gingerbread cookies from Meredith and never really got to dinner. But it was alperfect for a birthday don't you think?
Then we had a whole scene outside. It was a clear night and Wiley had crafted a bonfire and most of the young set were revolving around that. Hanna challenged me to list three things about my year passing that I thought wwere significant and then three things that I was going to work on for the coming year, my intentions. They are listed below.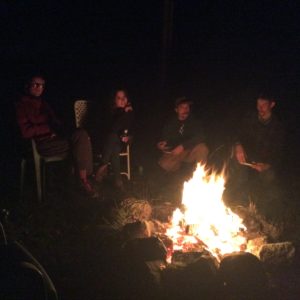 Hey Phil!
Here's the notes I jotted down from your Birthday 3. We have it in writing so you can't get away with straying from your path 😉
1
So patient with people and likewise – you have to be patient with people they're generally okay- they have their rough moments- as do we
2
Wiley and Hanna nextdoor- let's work on making it better/ room for improvement
3
James got his deer- more fun this stage in life that we could help you get yours on the first night. Nicest deer in the neighborhood- not really jealous…. but maybe
1
Want to get better at what I'm doing- haven't discovered ways to make things better- get more than casual, study it
2
Leaving it in the hands of god- he's got me right where he wants me, he's got my attention
3
We just have to be calm- set the example- not being fearful- people are freaking out – maybe they're being freaked out too much. Maybe help with that. Come on, calm down. Carry on with that.
Sent from my iPhone
OK, thanks for all the birthday wishes, pretty dang super duper birthday all around. I'm ready for, God willing, another year of beyond normaling along.
Love, Felipe.