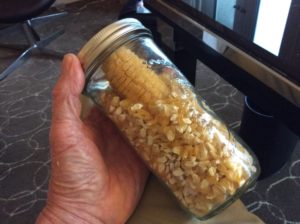 Just had a good safe flight in to LAX. Up in my hotel room taking a few moments to enjoy the quiet. Things are so noisy everywhere, my observation.
I have a bunch of meetings with doctors and patients tomorrow which is the reason for my trip. I hesitate to say too much beforehand. This is all about meeting folks and learning how things work in the cancer rehab area basically. I have things to contribute and they have things to contribute and we are trying to see how that will interface.
Well, I brought my jar full of corn with me to keep me company. It was something that I put together for Thanksgiving as a demonstration of abundance. Two seeds that I planted in May made this much corn is what it "says". And am so glad that it made it through TSA at the airport security where it got a lot of attention.
More to come loves, Felipé.