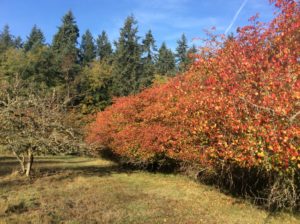 Ah, back at the ranch after a quick trip to Seattle for my scan. Somehow I feel at peace right now compared to the usual anxiety that tends to build up at this time. I guess I am thinking about Cris coming tomorrow and that is keeping me occupied. Too busy to worry.
It's a beautiful afternoon here. The barometer is way up. It is luring me outside even though I got piles of junk here in the living room from the hunting trip. Cris is coming have to straighten up. You know if no one ever came would we ever clean up? It is sort of a deadline.
She is coming in the afternoon tomorrow from Toronto. Somehow the timing is just perfect for me to pick her up after my treatment in Seattle. It is supposed to be a little rainy but then back to nice fall weather. That's good because I'm going to put her to work while she is here. The trail needs help and the corn field needs more tilling. Then there is Tomatotown.
OK, I just realized that I have a walk in a few minutes. Kelly is coming I think. We were going to harvest any tomatoes that we could still find. Oh, and the Word Series starts tonight! Yike all of a sudden I am busy.
So excited about my new book Pilgrimage about Pope Francis. But that will have to wait for another day. Love you all immensely, Felipe.